I have mentioned this stuff before in several other threads. But I've tested this sticker now for a couple of months and I'm quite pleased with the results so I guess it deserves his own topic.
Reprapworld sells these special PLA adhesive stickers
, and they work great. They give me the best sticking results till now. There A4 in size and cover the whole print area so no more tape lines. You can buy them at reprapworld, or order these labels:
Avery clear inkjet labels
. Product code: J8567-25. They are the same and way cheaper.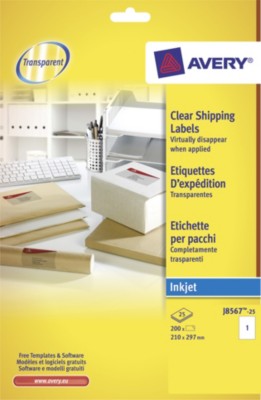 How to stick on the heatbed:
Clean the bare aluminum plate. then make some soap water. Make the bare aluminium plate really wet with it (so no Kapton). But make sure the electronics can't get wet (put a towel over it) I accidently damaged a opto sensor permanently with the soap water. Then peel the sticker while sticking it to the plate. Don't let the sticker sticks itself, it's hard to separate without damaging itself. Don't worry if it isn't placed right on the aluminium bed, you can adjust it. Now you need a flat piece of plastic. I've used a cd jewel case lid. And press the soap water from the middle of the sheet to the outside. Try to leave no air bubbles. No long strokes from the middle to the outside, just CM for CM. If you do get some air bubbles, you can use a needle pin and press a real tiny hole in it to rub the air out of it.
Printing:
I heat the bed to 60 degrees. And let the print nozzle print real close to the bed so it smudges the first layer in it. Don't clean it with acetone, It's too aggressive for the plastic film.. Actually I don't clean it at all.
ABS:
Today I tested ABS with it… Printed a part 11 x 2,5 x 1 CM with it. Heated the heat bed to 75 degrees and the nozzle to 235 degrees. When printing started the real temperature dropped to 228 degrees and the heat bed to 70 degrees (room temperature = 22 degrees). So I guess the RAMPS electronics or the power supply can't deliver the current. Nevertheless it printed great. There was a miniscule peeling on the far edge (think it was 0,2 mm). After the print job was done it was impossible to separate the print from the hot printbed. But, sadly it was also almost impossible to separate from the cold heat bed. I used a knife to peel it of the bed, sadly the adhesive force was to strong so it damaged the film. So, long story short: ABS sticks to much to the plastic film. I want to do a test to test what happens on a 50 degrees heated heatbed, maybe it won't stick to much.