Hi,
disclaimer: I understand it is not recommended to use a glass printer bed as its weight (and thus inertia) probably affects Y-axis accuracy.
I decided, mostly out of curiosity and a little to gain a more flat printer surface, to make a glass print bed. For the first attempt I used a sheet of 4mm glass. This indeed is quite heavy. I took three bolts with a wide "head" and grounded this head as flat as possible. After thoroughly de-greasing the glass and flat bolt heads using acetone, I used Bison Max Repair glue to glue the bolts in place. I ordered the kapton-tape heating element from Felix and also a Buildtak surface sticker and applied those the new plate. Again making sure everything was well cleaned.
The initial results were somewhat mixed. Leveling the bed seems more reliably done, as it seems a glass plate is indeed flatter than the aluminum bed. However, after a few prints I heard a snapping sound and saw a crack in the glass plate. I suspect it was due to uneven heating or stress build-up in the glass. It didn't seem to affect it rigidity at that point. Still, after more experimentation, I had to re-glue one of the bolt as it came off. I'm unsure why though as the other two felt very strongly attached to the glass still. Then, after another print attempt, a second crack in the glass occurred, rendering this plate useless.
As I was able to salvage the heating element, I decided to do another attempt. This time using a thinner sheet of glass, 3mm thick. The difference in weight is very noticeable. After cleaning a new set of bolts and the glass even more thoroughly than before, I glued them in place. I stuck the heating element in place and connected thermistor and heating cables again.
Since I was not able to save the Buildtak, I'm now doing without. I use glue stick on the glass instead. This attempt proofs to be more successful! Bed leveling it still a time consuming process, but the result seems more accurate and stable. Heating up the bed takes more time, and every now and then, the initial heat up take a bit to long and the firmware will conclude the heater is not functioning and invokes an emergency stop. This happened only twice so far. Once at the correct temperature, keeping it at that temperature seems without problems. This time around the gluing of the bolts was more succesful. All three feel strongly and securely attached to the glass. Perhaps I did a better cleaning-job. So far I did two 40-hour print jobs (the Zuzanna-lamps, found on thingiverse) and a few shorter running prints on the second glass bed. It holds up pretty well!
I intended to do a print test at some point to compare the aluminum plate against the glass plate.
Although I took some pictures, it is not a full build log, but anyway
I hope this is of help to anyone interested in the same experiment. If you need more details, please ask!
First attempt: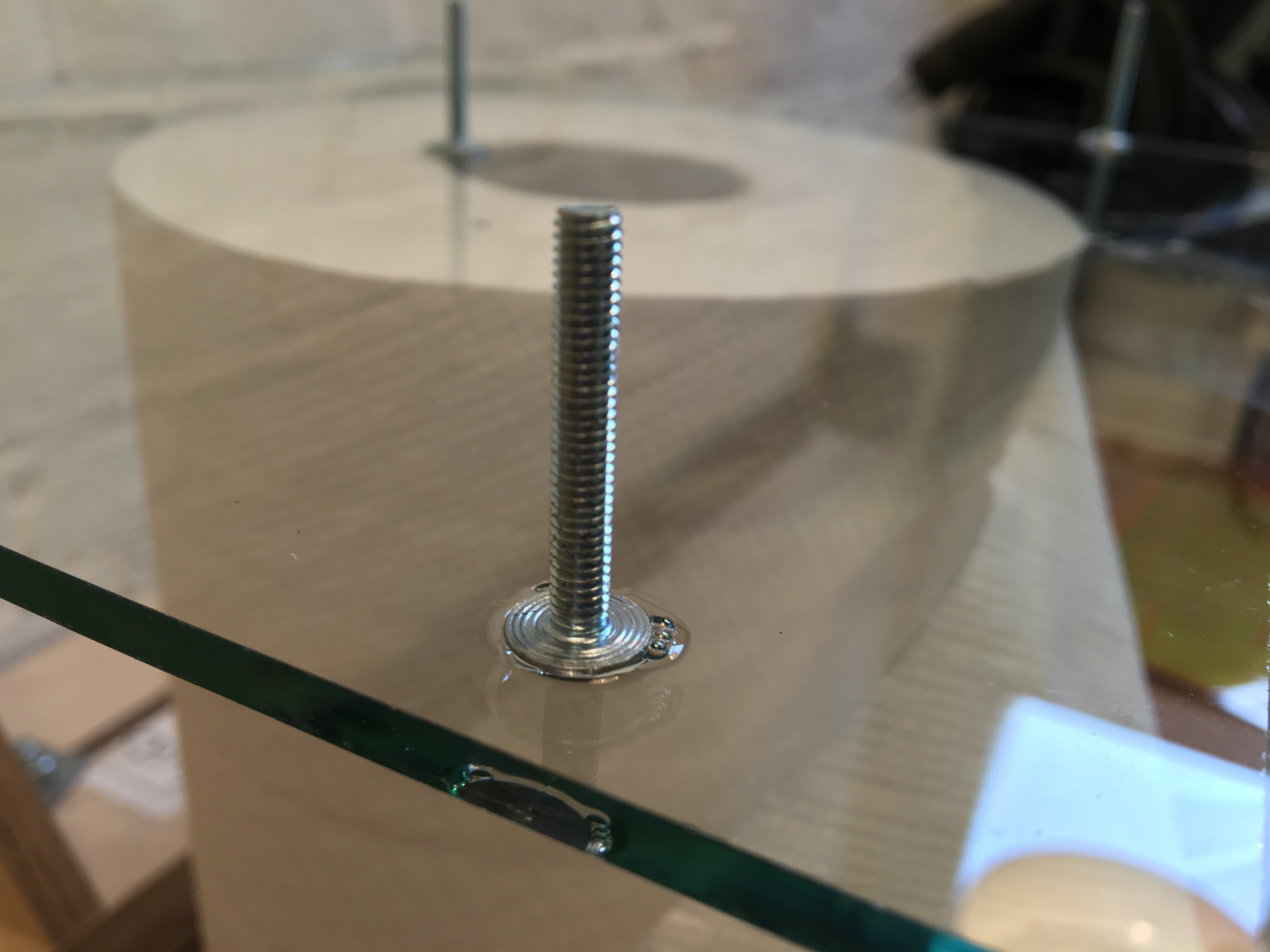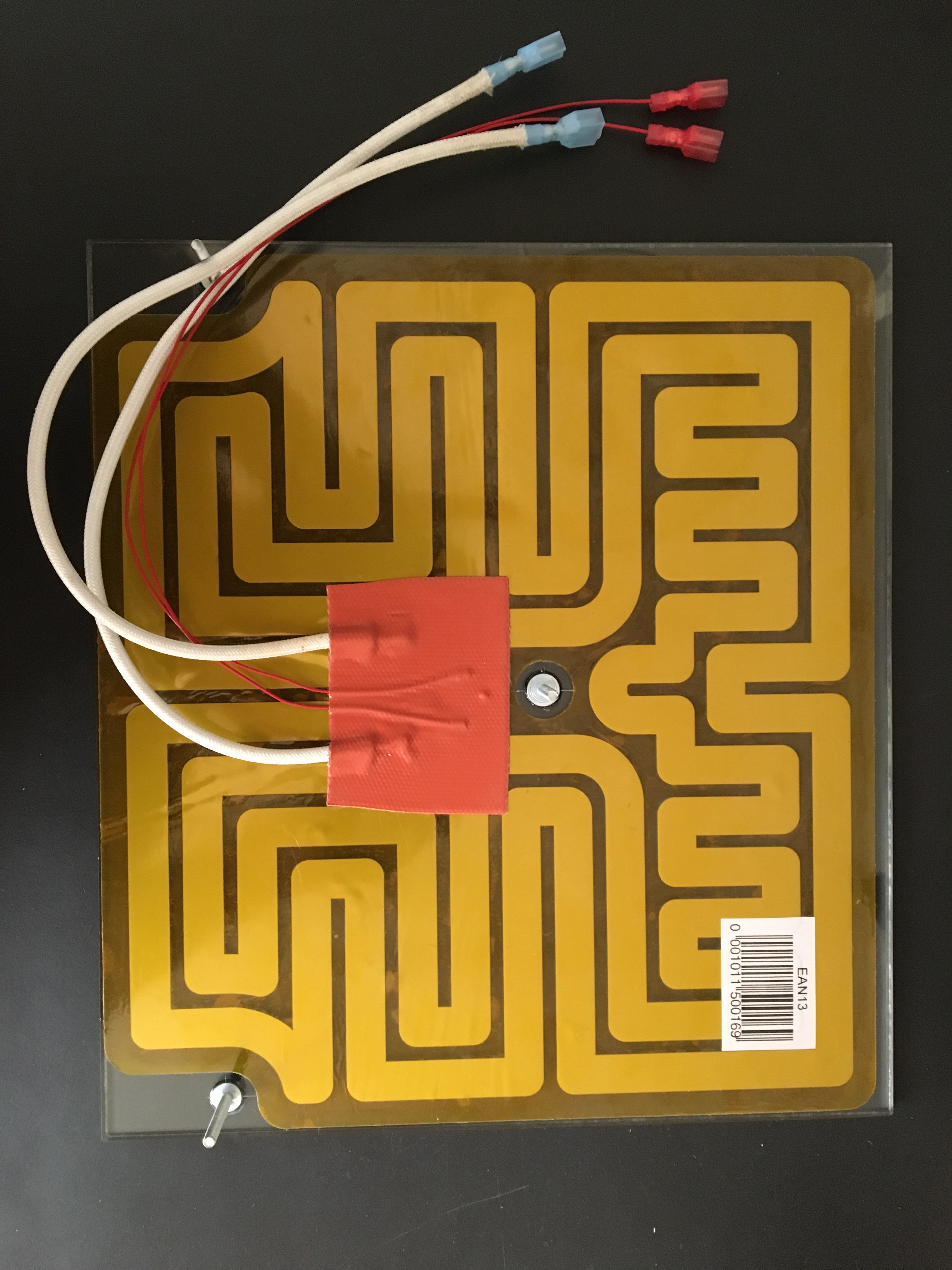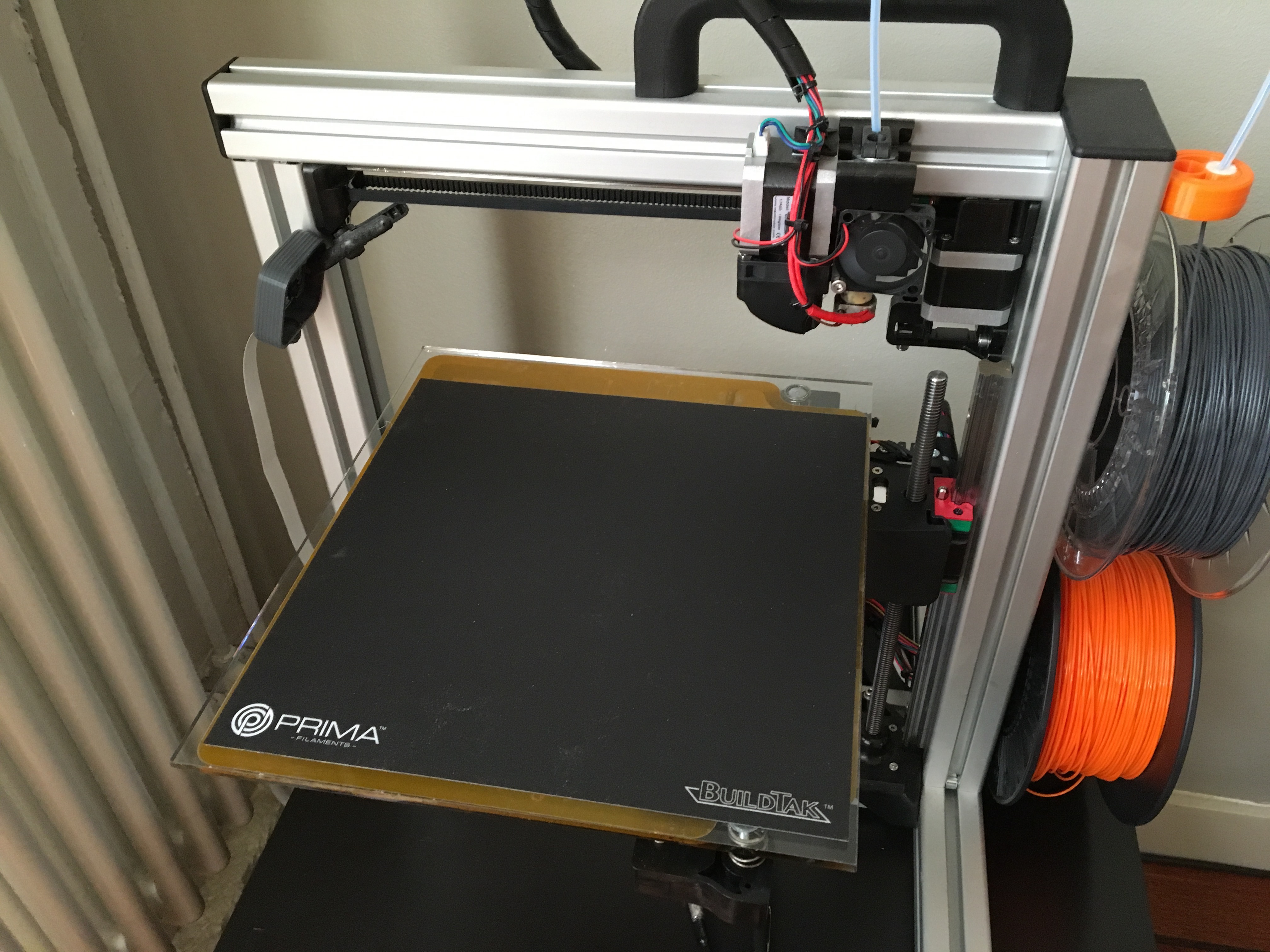 Second attempt: